Paper Toys Again - "Paper Forest"
Paper Forest
is one of the best paper toys website I've seen. It has an amazing collection of both origami as well as cut-and-paste toys. All toys are free downloads, and they're really wonderful.
The latest are from the
Yamaha
website. They have paper cut-and-paste toys of some wonderful animals as well as bikes!! You can download the colour pdf files and really have a ball.
Here're two that I really like -
The Lemur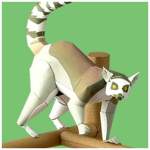 And of course, the incredible XJR1300!
Enjoy!