The Kamats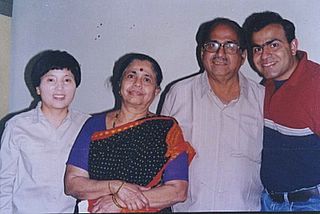 Once in a blue moon, a very, very, blue moon, during daily glances over millions of characters of text, does one reach a website which brings pause, quiet and tranquility to the mind. A gateway. To another world. And once having seen the view, your heart aches to turn away. Just wishing everything could be grabbed together right now, in the immediacy of this twenty-first century, in the right-nowness of one-click-publishing, in the splintering of the second on the digital clock face without recognition. But still you turn away, other things in life beckon, leaving the yearning and waiting for another day when the view can be enjoyed again anew.
The URL is
www.kamat.com
Calling it just a website is sheer blasphemy. Calling it a portal even, is to demean it, what with Yahoo and MSN having been called the same. I can only call it an awakening.
This is a labour of love by a family of four. The world through their eyes. And not just the world they see, but the world that they have created for us to see through as well. The parents, Krishnanand & Jyotsna Kamat (the dad passed away in 2002), never owned a computer. All their records were in diaries, in photographs, in journals. And it's not as if the computer age just brought in the scanned versions. (Suddenly I realised, that the scanner appeared way after the computer!). No, even after their son created the website, way back in 1995, they continued writing for the web, in
longhand
!! Kudos to their son and daughter-in-law, Vikas and Hiryoung Kim Kamat, for getting it to where it is now. But there's no denying, it isn't a single person's effort. Amma (Jyotsna Kamat) still posts! Her latest is about a trip she made to Rajasthan!
Here's how my train of thought (and clicks!) went - I wanted to see all the nominees for Indibloggies - the blogging awards for Indian bloggers. That's how I reached the Kamats. From there automatically to 'Kamat BLOG'. While going through the page, right at the bottom, I see this cryptic sentence "Not made with Blogger, Radio, or LiveJournal, but with Kamat Content CrowBot." That is what intrigued the techie in me. As I read further, I realised that the whole page, the site, the portal, the relaying of information, the indexing of pictures, even the searching of pages all the way down to the links within links of the amazing story unfolding before me was entirely done by themselves! I mean the only thing these guys stopped from was building the Operating System!! And all this done by amateurs in their available time!!!!
So, finally, I started reading the content! A mention of K.V. Subbanna caught my eye. Amma's trip reminded Vikas of the Magsaysay award winning author's book "Na Rajasthanadalli". (He's even providing some English translations!) Can you imagine? In this day and age of hyperlinks and the "Blog This" button, someone translating a book for their website? I was humbled, to say the least.
Talking about K. V. Subbanna, Vikas writes -
This "Na Rajasthanadalli" book was published by K.V. Subbanna in 1974. For those who do not know, Subbanna is a great dramatist and thinker in India and has been an awardee of the Magsaysay Prize. Bappa admired him a lot, and it brought me tears to read a recent letter of tribute by him to my father. It touched me because I was suprised how much he had understood Bappa -- the profoundness of great men that is only visible to other great men, something that I had not known or noticed. One of these days I am going to translate the letter...(the tribute by itself is fairly complex, dwelling into the definitions of knowledge, community, learning, teaching, and selflessness).
Kamats. To you, I apologise. My life's too meagre to offer you a tribute.
My wishes are in this blog. And will be in my revisits.